ABC Digital Tour
Welcome back! We hope you have been enjoying using Answers Bible Curriculum Digital. Today we're going to give you an in-depth tour of the ABC Digital platform, showing you some tips and tricks to make directing and teaching your Sunday school classes a breeze.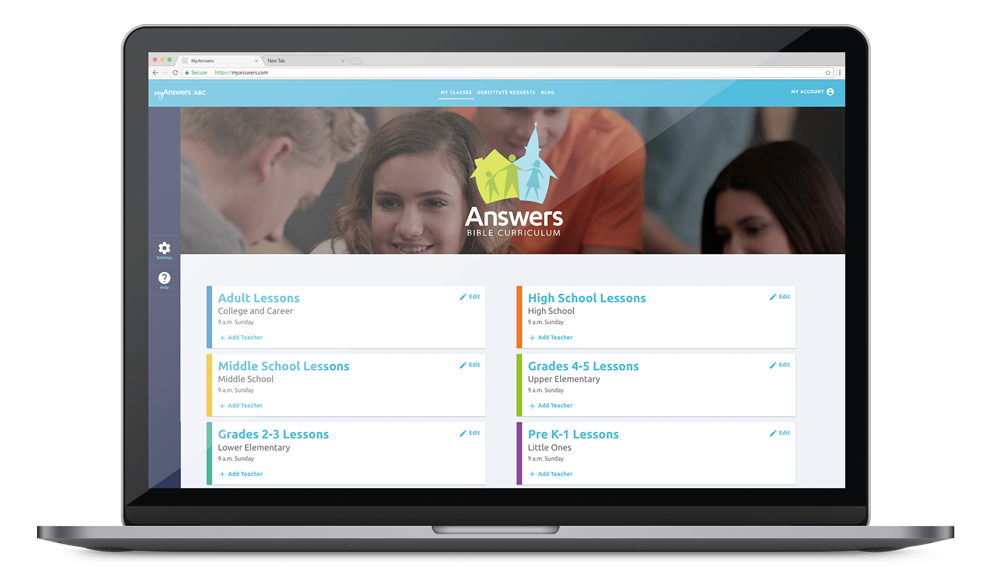 My Classes
If you're directing your Sunday school program, this is the first page you will see when you log into ABC Digital. After you've created all of your classes, they will appear in a list on this page. Each class displays the curriculum age group the class will use, the name you gave the class, the time and day the class will meet, and some quick links to add a teacher and edit the class. Here are some of my favorite tips you can use when you're setting up your classes:
You can have classes that meet on different days of the week.
This is great for people who are using ABC for groups other than Sunday school, like Bible studies, life groups, or co-ops.
It's best to create one class for each time period and grade/level.
This allows you to easily assign teachers to the appropriate group and allows features like scheduling and requesting substitute teachers to work best. For instance, if you have two kindergarten groups that meet at the same time, create a separate class for each of them.
You can name the class anything you want.
This flexibility allows you to choose a name that makes the most sense for your program. It also allows you to distinguish multiple classes that are teaching from the same age group in the curriculum.
Each class is color-coded based on age group.
Pre-K–1st grade is violet, grades 2–3 is teal, grades 4–5 is green, middle school is yellow, high school is orange, and adult is blue.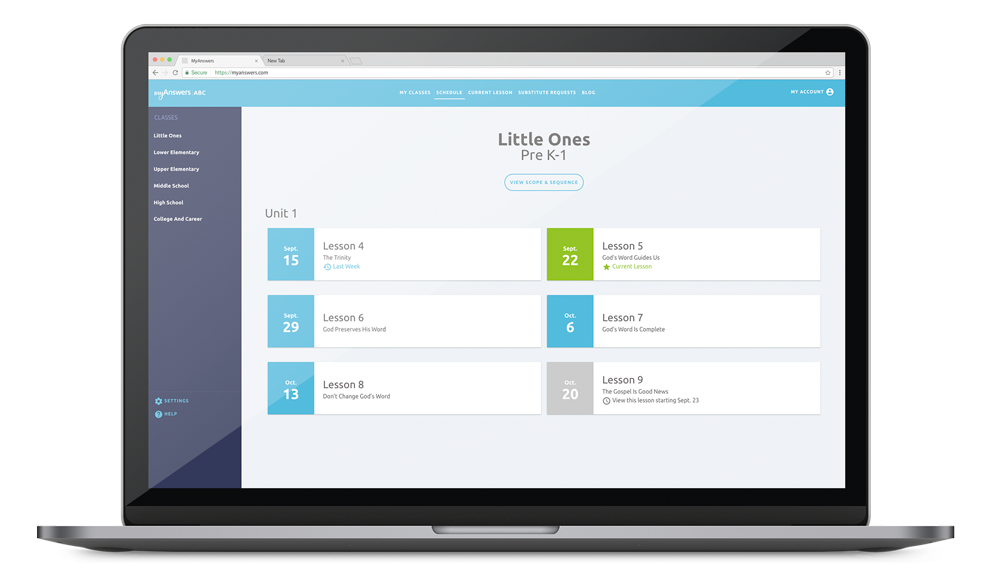 Class Schedule
Clicking on one of your classes on the My Classes page opens the schedule for that class. Unlike the class list page, the class schedule is visible to both directors and teachers. This page gives you a quick glance at what's coming up in your class. You will have access to a window of five lessons at a time, with your current lesson highlighted in green. Once the date you have taught a lesson has passed, the system will automatically advance the lesson window and show you the next lesson in your schedule. You'll never lose your place again! Check out some of the things we've included in your schedule:
Each lesson shows the date that lesson will be taught.
We're currently working on new features that will allow you to postpone a lesson to a later date, along with a few more exciting things to further customize your lesson schedule!
Last week's lesson and the current lesson are marked with icons.
We also show you the next lesson coming up in your lesson window and tell you the date you'll be able to access it.
Want to see a list of all 200 lessons in Answers Bible Curriculum?
Click the view scope and sequence button at the top of the schedule page!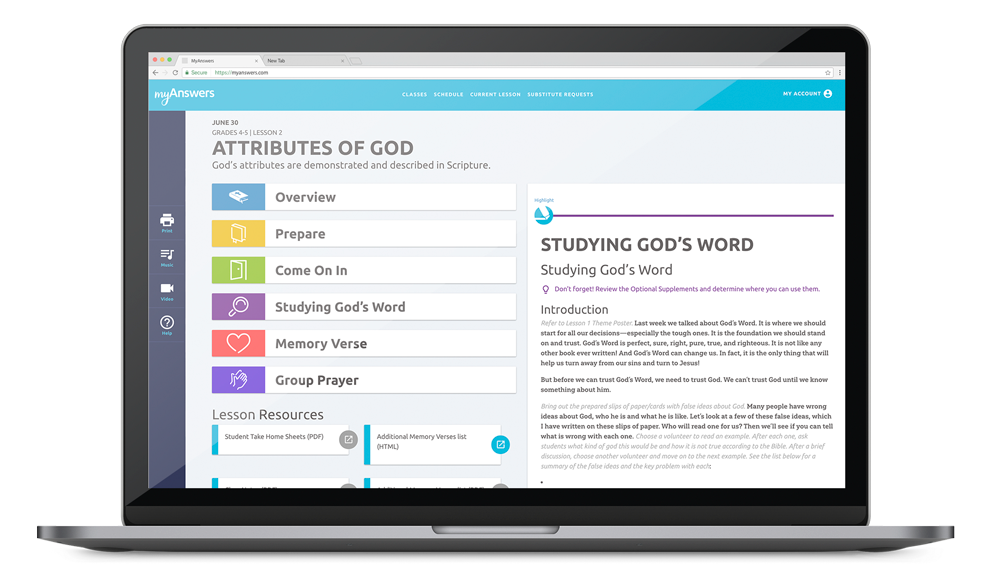 Lessons
The lesson page is where teachers will spend the most time. The lesson page has all the content that you will find in the printed teacher's guide, plus all of the resources, videos, and songs you would ordinarily find in your kit. We wanted to make sure that you have everything you need to easily prepare and teach a lesson straight from your mobile device, tablet, or computer. Try out some of these features on your next lesson:
Teachers can request a substitute directly from their lesson.
Just use the button at the top of the page. This will send a notification to the Sunday school director, who will then be able to invite a substitute to teach the lesson. Keep track of all your substitute requests or request a substitute for a date in the future by going to the link in the top navigation.
Use the highlight button in the right panel to mark important sections in your lesson.
Right now, this feature allows you to highlight full paragraphs. When you leave your lesson and come back, your highlights will still be there. Soon, we'll be building a new feature that will let you add custom notes to your lessons, as well!
Notice something missing or broken in your lesson? Let us know!
Use the help button on the left side and click "Leave us a private message" under the search bar. In fact, every page has a help button that you can use to report any issues that you notice.
Presenting is about to get even easier!
We're in the planning stages of a new feature that will let you show slides and videos to your students on one screen while you view the lesson content from another!
What's coming next?
We have a whole list of ideas that we've accumulated during our brainstorming sessions while creating ABC Digital, and we need your help to figure out which ones we should turn into a reality! We've created a poll for you to vote for your favorite idea or tell us your own. Here's a quick look at our top three feature ideas:
Offline Lessons: Teach your lesson from anywhere by using offline mode. No WiFi required! All of your lesson content will be downloaded to your device and can be viewed at any time without internet access.
Teacher and substitute scheduling: Create a complete schedule of teachers and substitutes that sends automatic reminders leading up to the day. This schedule will allow a director to view, rearrange, and print their complete schedule all from one place.
Requesting printouts: Teachers will be able to send a notification to their director requesting them to print lesson resources. The director will be able to print the exact number of each resource that was requested quickly and easily!
Thanks again for being a part of building ABC Digital. Your involvement has already helped us to improve our digital curriculum, and we're excited to help you share the gospel with your students. Please be sure to answer the poll we added to this post so we know what feature we should build next. Do you have any ideas for features that we haven't mentioned? We would love to hear your thoughts!
Check out our support forum for answers to common questions. Have any questions that we haven't answered? Please let us know!
ABC Digital is also on Facebook. We've created a private community group just for teachers who use Answers Bible Curriculum Digital. Get to know each other, exchange tips, and ask questions!
We appreciate your continued feedback as we improve ABC Digital. Stay tuned for more updates!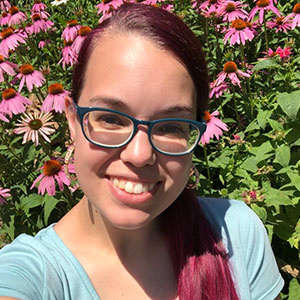 Alyson S.
Lead Web Designer
Wife and mom of one. Portrait artist turned web designer. Glitter enthusiast, cat-lover, and CSS nerd.